This past Christmas, your site put out a call for my mother to receive cards. Here is the link to that call-- www.marinesoflongago.org/xmascard.htm
Sgt Mom received about 3000 cards and letters. :) Her 90th birthday is May 26, which happens to be Memorial Day. If you feel so inclined to put out another call for cards, it would mean the world to Sgt. Mom. The cards at Christmas gave Sgt Mom a second wind. It was amazing how she improved when the cards came. I still read them to her everyday.
Here is the address (and feel free to pass the address around)--
Sgt Evelyn Moore
Jeanne Jugan Residence
3rd floor, 186 Highland Ave.
Somerville, MA 02143
I cannot thank people enough for the joy and hope they gave Mom over Christmas. Alzheimer's has stolen many memories from Mom. However, she never forgets the Corps.
Here is her facebook page so you can see "Sgt Mom" in photos: https://www.facebook.com/sgtmomoorah

238th USMC Birthday Ball, Wounded Warriors of Walter Reed Det.

Don Patterson gets Certificate of Appreciation from U.S. Army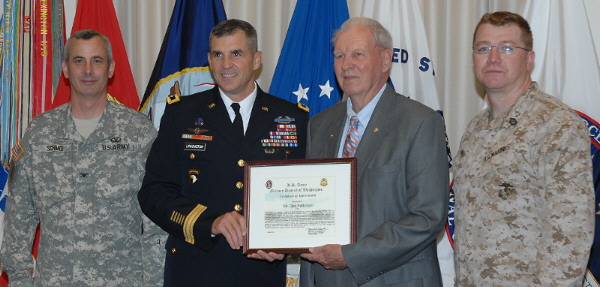 Don Patterson was presented a Certificate of Appreciation and coin from Michael S. Linnington, Major General, US Army, Commanding.
The certificate read "Outstanding civic support to America's Wounded Warriors in care of the U.S. Army Military District of Washington's Medical Evacuation to CONUS Hospitals (MECH) operation.
For many years, Mr. Don Patterson, also known as the "Cane Man", backed by several civic organizations with which he has cultivated relationships, has provided help to Soldiers, Marines, Airmen, Sailors, and Coast Guardsmen, through donated clothing, blankets, food products, and walking canes.
On numerous occasions, he has visited MECH operations at Andrews Air Force Base and National Capital Region Hospitals, offering his time and assistance, and providing critical supplies.
Mr. Patterson, ever-ready to help, patriotic, generous, and faithful to those making the greatest sacrifices, has volunteered countless hours for America's Wounded.
By these actions, Mr. Patterson has demonstrated superior allegiance to the noble tradition of charitable organization support of the America's Armed Forces".
By Michael S. Linnington, Major General, US Army, Commanding.
After receiving the award Mr. Patterson thanked the General and all there and stated "I basically am just the UPS guy for great organizations who support and supply me like The Heart of a Marine Foundation, Marines Care Foundation, the Slattery Detachment, MCL and all the others who have helped me to help America's Wounded".
(L-R) Colonel Claude Schmid, US Army, Major General Michael S. Linnington, US Army, Don Patterson, GSGT Paul E. Minix, USMC
Help Don's Cane Program with Your Tax Exempt Donation
to the Heart of a Marine Cane Program
on their Secure Connection